The round table marine litter [Link: https://muell-im-meer.de/] brings together representatives of environmental conservation organisations, institutes, the Industry and economics and is hosted by the Niedersächsischen Ministerium für Umwelt, Energie, Bauen und Klimaschutz [Link: http://www.umwelt.niedersachsen.de/startseite/], the Bundesministerium für Umwelt, Naturschutz und nukleare Sicherheit [Link: https://www.bmu.de/] and the Umweltbundesamt [Link: https://www.umweltbundesamt.de/].
The two-day conference took place in Hannover on the 29th and 30th of August this year, where lake and land-derived input were being discussed. In this setting, current projects, regulations and proposals were presented, discussed and worked on. Among others, the EU commission legislative proposal for plastic strategy, the ban of dolly-ropes, or the avoidance of using primary microplastic particles have been discussed.
DEEPWAVE took the opportunity to present the BLUE STRAW campaign as well as the current political situation under the topic substitution of household items.
The "Clubkinder" and the "greenmusic initiative" start things off and want to make the club scene in Hamburg more substainable by banning the single-use plastic straws from all the bars and clubs. The initiavitve is called "FCKSTRAWS". DEEPWAVE as the cooperation partner provides the necessary knowledge to implement the campaign.
Information about the campaign can be found here.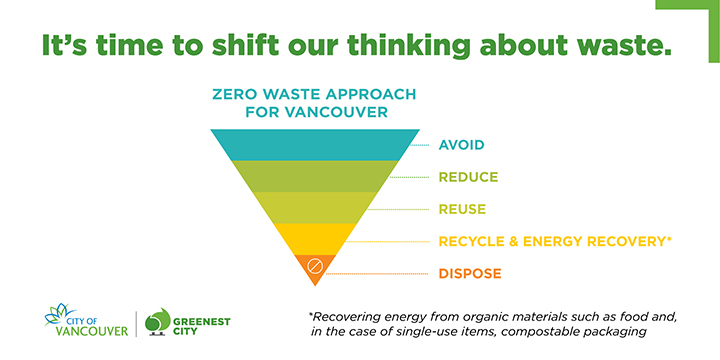 © City of Vancouver- Zero Waste 2040
Kelowna Now, 17.05.2018, Author: Josh Duncan
Vancouver City Council reached a monumental decision on Wednesday. Council voted to
adopt a policy that prohibits the use of plastic straws, as well as foam cups and take-out
containers. It's all part of Vancouver's plan to have zero waste by the year 2040, which is
being called the Zero Waste 2040 strategy.
"Every week in Vancouver, 2.6 million plastic-lined cups and 2 million plastic bags are
thrown in the garbage," read a tweet from Vancouver's Mayor's Office. "Cups and take-out
containers make up 50% of all items in public waste bins." That pales in comparison to the
7 million straws that end up in Vancouver's garbages each week.
The entire article can be found here.
Report of the "Complete Zero Waste 2040" strategy: https://council.vancouver.ca/20180516/documents/pspc2a.pdf
Kelowna Now: https://www.kelownanow.com/