Politics
To prevent the systematic destruction of our oceans we have to decide upon a better way together. As individuals and as part of our policy and economy.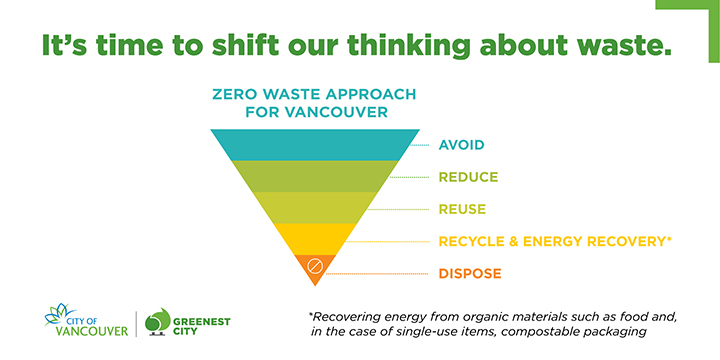 © City of Vancouver- Zero Waste 2040
Kelowna Now, 17.05.2018, Author: Josh Duncan
Vancouver City Council reached a monumental decision on Wednesday. Council voted to
adopt a policy that prohibits the use of plastic straws, as well as foam cups and take-out
containers. It's all part of Vancouver's plan to have zero waste by the year 2040, which is
being called the Zero Waste 2040 strategy.
"Every week in Vancouver, 2.6 million plastic-lined cups and 2 million plastic bags are
thrown in the garbage," read a tweet from Vancouver's Mayor's Office. "Cups and take-out
containers make up 50% of all items in public waste bins." That pales in comparison to the
7 million straws that end up in Vancouver's garbages each week.
The entire article can be found here.
Report of the "Complete Zero Waste 2040" strategy: https://council.vancouver.ca/20180516/documents/pspc2a.pdf
Kelowna Now: https://www.kelownanow.com/
"Our current knowledge of the deep sea is not sufficient to protect the unique species that live there from mining operations. It is alarming to see contracts being granted for these still largely unexplored and vulnerable areas. We need a 10-year moratorium on seabed mining exploitation." – Carl Gustaf Lundin, director of International Union for Conservation of Nature's (IUCN) of Global Marine and Polar Programme.
Chinadialogue ocean, 25.02.2019, Author: Jessica Aldred
It's one of the coldest, darkest places on earth, full of marine life – much of which is yet to be discovered – with a seabed rich in mineral deposits.

In the last decade, the floor of the deep ocean that lies outside the jurisdiction of any one country has been increasingly explored. A number of parties are assessing the size and extent of mineral deposits that could provide raw materials for everything from batteries and jet engines to wind turbines and mobile phones.

Some deep seabed mining has already taken place within countries' waters: Japan in 2017, and in Papua New Guinea where the controversial Solwara 1 mining project has ground to a halt. But this year will see a critical global debate on how to manage the resources that lie in "the area" – international waters of more than 200 metres deep that cover nearly two-thirds of the earth.

The question of who mines these – and how – is due to be formalised in a "code" being drawn up by the International Seabed Authority (ISA), the UN–appointed body responsible for managing the riches of the deep seabed for the "common heritage of mankind".

Tasked with what some say is an impossible mandate of promoting the development of deep seabed mining while ensuring the practice does not harm the marine environment, the ISA's 168 members must agree on how these fragile and unique ecosystems will be protected, how the potentially multibillion dollar industry will be regulated, how any profits will be shared equitably, and how it can demonstrate accountability and transparency. […]
The entire article can be found here.
Chinadialogue ocean: https://chinadialogueocean.net/
IUCN, International Union for Conservation of Nature: https://www.iucn.org/
Through his music, acclaimed Italian composer and pianist Ludovico Einaudi has added his voice to those of eight million people from across the world demanding protection for the Arctic. Einaudi performed one of his own compositions on a floating platform in the middle of the Ocean, against the backdrop of the Wahlenbergbreen glacier (in Svalbard, Norway).
Quelle:  https://www.youtube.com/watch?time_continue=29&v=2DLnhdnSUVs