Climate Change
Ocean conservation is climate protection.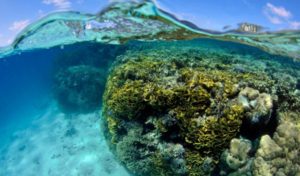 Photo: Andre Seale
Maldives coral reefs under stress from climate change: research survey reveals over 60% of corals bleached
Preliminary findings of a comprehensive scientific survey examining the impact of the climate change-related 2016 mass bleaching in the Maldives indicate that all reefs surveyed were affected by the event. Approximately 60% of all coral colonies assessed – and up to 90% in some sites – were bleached.
Higher than average sea surface water temperatures, linked to an El Niño Southern Oscillation Event, have caused mass coral bleaching around the world in 2016.
Through his music, acclaimed Italian composer and pianist Ludovico Einaudi has added his voice to those of eight million people from across the world demanding protection for the Arctic. Einaudi performed one of his own compositions on a floating platform in the middle of the Ocean, against the backdrop of the Wahlenbergbreen glacier (in Svalbard, Norway).
Quelle:  https://www.youtube.com/watch?time_continue=29&v=2DLnhdnSUVs