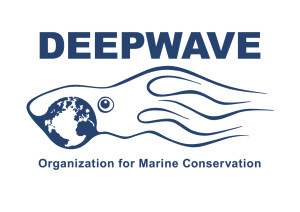 DEEPWAVE THE ORGANISATION FOR MARINE CONSERVATION
Our Earth is a planet of water: 60 percent of the surface belongs to the high- and deepsea. This ecosystem is the largest realm on earth for millions of plants and animals, a major force in global climate dynamics. It is also a rich area for food production and a resource for the growing demands of the increasing world population.
However, the oceans are under strong attack: daily, pollution and mismanagement of resources threaten the fragile balance of this unique biotope. Only with united conservation efforts on a national and international level can this environmental degradation of the high seas be stopped.
For these reasons, the initiative DEEPWAVE was founded in the spring of 2003 in order to develop and enforce environmental means to protect the ecosystem of the high- and deep-sea.
DEEPWAVE is dedicated to the protection and restoration of marine ecosystems and the species they sustain, through the development of innovative technologies, and conservation action based on scientific developments.
DEEPWAVE wishes to
enhance awareness for marine environmental threats

exert pressure on political parties in order to develop further solutions.

spread the scientific results of environmental research.

give an organisational framework & platform for information & opinion on marine conservational issues.
DEEPWAVE
* promotes scientific studies.
* manages public relations and transfer of information.
*cooperates with other non-governmental organisations.
DEEPWAVE oversees the
Mangreen Project (Mangrove Restauration and Ecology in India) in cooperation with OMCAR. Visit www.mangreen.org
Become a Member of Our Initiative:
Only with your financial input is the initiative able to undertake time-consuming and costly investigations and to promote our interests to governments, politicians and legislators. As a member you will receive regular DEEPWAVE-News dealing with topics on the conservation of the high- and deep-sea, in addition to the information available on our internet platform.
Get involved and support our efforts to strengthen conservation of the oceans.
Contact us:
DEEPWAVE
Organisation for Marine Conservation
Sodenkamp 13e
D – 22337 Hamburg, GERMANY
deepwave.annagross@gmx.de
Make your donations now!
Hamburger Sparkasse
IBAN: DE10 2005 0550 1208 1167 13
BIC: HASPDEHH
(receipt for tax purposes will be provided)